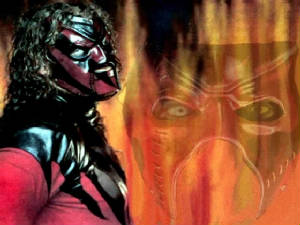 Name:Rowheart

age: unknown

height: 7' 2

weight: 360 lbs

alignment: bad

style: Power

music: "one step closer" by Linkin Park

hometown: Hell

bio: Rowheart... the lost soul and the powermonster from hell and the monster
who wish that he was normal is back for more hell on earth. He one of the
biggest wrestlers and is powerful! He is ready for any kind of match!

favorite moves:
1, Chokeslam 2, Tombstone Pildriver 3, Sit-Down Powerbomb 4,
Clothesline 5, Big Boot 6, Pendulum Backbreaker 7, Dragon Sleeper 8, Shoulder
Breaker 9, F-5 10, Shooting Star Press (!)


finisher: Black Deep

description: Lifting the opponent for an back suplex, but spins the opponent to
the other shoulder and slams the opponent to the floor (The Slam is like the
Black Hole slam).

poser:Kane